Champion Soccer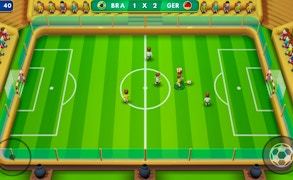 Champion Soccer
Get your cleats laced up and brace yourselves for an exhilarating match in the brand new soccer game - Champion Soccer. This game is a must-play for all soccer games devotees, taking you directly into an intense digital face-off, where your skills are tested and celebrated.
For those who revel in the thrill of ball games, you will find this game a perfect blend of strategy and agility. Champion Soccer is not just about kicking the ball around, but it's also about strategizing, predicting your opponent's next move, and improving your timing. It's a skill game that also shines as one of the best 2 player games.
In Champion Soccer, you have the freedom to pick your favorite national team and challenge your opponents in fierce matches. This choice brings realistic feels to the game, making it a hit among World Cup games fans. The selection doesn't stop there; the game also offers you a hot option: placing bombs in the field! Talk about turning up the heat!
This explosive feature makes every move count as it could either spell victory or disaster for your team! It indeed fosters agility in players and adds an engaging challenge to this ball game.
To summarise, Champion Soccer holds on to its promise of delivering thrills and excitement from start to finish. Whether you're a long-time gamer or a casual player who enjoys sports games, Champion Soccer is packed with compelling features that will keep you coming back for more. So don't wait any longer - go online and kick off your journey in Champion Soccer, sure to spark your competitive spirit!
What are the best online games?