Celebrity Party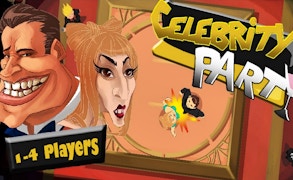 Celebrity Party
Step onto the glittering red carpet and into the glossy pages of a tabloid in Celebrity Party, one of the most entertaining 2 player games online. A title that merges the compelling drama of skill games with the hilarious chaos of fun games, Celebrity Party is an unforgettable multiplayer extravaganza.
In this star-studded world, where sequins sparkle brighter than diamonds, and celebrities are just as unpredictable. The scene opens at the coveted academy awards, where tensions run high, and egos touch the sky. Dive headfirst into a glammed-up evening that soon spirals into an unexpected brawl among some familiar faces - your favorite stars!
Choose your fighter from a roster that boasts personalities like Justin Bibeer, Lady Gogo or Oprah Windfray - caricatures that might sound familiar, yet nothing like you've ever seen before. Whether you're throwing punches as Justin or dodging blow as Lady Gogo, Celebrity Party tests your agility, quick thinking abilities and strategic skills.
This bold twist on 2 player games leaves no room for monotony. Each game is as unpredictable as these celebrities themselves. One moment you're sipping champagne under sparkling chandeliers; next thing you know, you're involved in a knock-down-drag-out fight with your fellow attendees! Each character comes with their unique set of moves and skills; mastering them promises hours of laughter and fun.
If you thought games couldn't get more exciting than skill games or more entertaining than fun games, then it's time to rethink. Celebrity Party proves that even in the world of multiplayer gaming, sometimes it's good to not take ourselves too seriously. Gear up to experience glamour and chaos entwined like never before – it's truly outlandish!
What are the best online games?