Cats Puzzle Time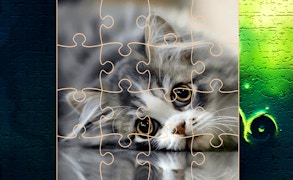 Cats Puzzle Time
In the colossal universe of animal games and cat games, one title stands mitely atop the rest - Cats Puzzle Time. As ideal for puzzle aficionados as a sunbeam is to a tabby, this game promises to deliver an unparalleled jigsaw experience fused with the adorableness of our feline friends.
The game play mechanics are wonderfully tailored for those who relish a good brain workout. It's an innovative addition to the category of brain games, serving up a challenging yet entertaining platform for players. That's right, it doesn't just stop at being fun; Cats Puzzle Time also muscles up your grey matter, keeping your intellect razor-sharp.
Dive into three diversified modes – easy, medium, and hard, depending on your expertise or mood. Each picture presents its unique puzzle that draws you into the world encapsulated within it. Best of all? There's no ticking clock sneaking up on you. It's leisurely, it's relaxing – it's just like spending time with a real cat!
Engaging in this game is like wrestling with an intricate mouse maze – you never know where the next turn will take you! Whether you're a seasoned gamer or just looking for some games for kids, Cats Puzzle Time is bound to leave everyone purring with satisfaction.
In conclusion, Cats Puzzle Time can be summed up as one purr-fectly conceived game! With its enchanting graphics, engrossing gameplay and relaxing nature, it's not just another game in the pile but rather it shines like a jewel in the crown of animal-themed puzzle games. Come join us in this delightful journey of adorable cats and intriguing puzzles - It's indeed puzzle time!
What are the best online games?