Cats Picnic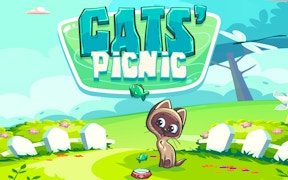 Cats Picnic
Description
In Cats Picnic Link, you find yourself in a whimsical world of adorable cats on a picnic. This is a Match 3 Puzzle Game, where your objective is to connect three or more identical Fish items. The game is set in a colorful and vibrant environment, making every round delightful and engaging. The more Fish items you match, the higher your score soars.
How to play
Starting the game is simple: just click on one fish item and drag a line through matching adjacent fishes to link them together. The longer the chain, the higher your score. Make sure to plan your strategy carefully to clear as many fish items as possible and watch your screen fill with happy picnicking cats!
Tips and Tricks
Don't settle for only matching three fish at a time; strive for longer chains to boost your score rapidly. Remember that time is of essence, so quick decision-making skills will be highly beneficial. Keep an eye out for special fish items; they can greatly assist in achieving higher scores.
Features
Vibrant visuals: lively colors and adorable cats add charm to the gameplay.
Easy controls: intuitive interface ensures everyone can jump right in!
Intriguing gameplay: With diverse fish items and increasing difficulty levels, every round offers unique challenges.
Suitable for all ages: Whether young or old, this game provides casual fun for everyone.
What are the best online games?