Catch the Snowflake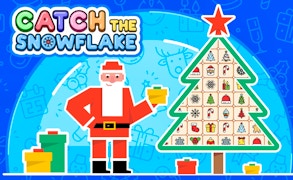 Catch the Snowflake
Description
Immerse yourself in the festive spirit with Catch The Snowflake, a thrilling game featuring mahjong elements. This game transforms traditional mahjong by incorporating beautiful Christmas imagery on tiles. Your mission is to connect snowflakes and Christmas trees before the time runs out. The increasingly challenging rounds add an exciting twist to this holiday-themed puzzle.
How to play
The main goal in Catch The Snowflake is to link identical tiles as quickly as possible. Using your mouse, select a tile then pair it with a matching one within the time limit. As you progress, new layers of tiles appear, increasing the game's complexity and fun factor. Remember, speed is of paramount importance here!
Tips and Tricks
Pay close attention to the timer, it's your main opponent in this game! Strategize your movements beforehand and aim for quick matches to win extra time and score higher points. Also, don't hesitate to shuffle tiles if you can't see any matches.
Features
Vibrant and relaxing Christmas-themed graphics
Excitingly challenging gameplay based on mahjong rules
In-game timer that adds a layer of tension to each round
The ability to shuffle tiles when no matches are available.
What are the best online games?