Catch the Beats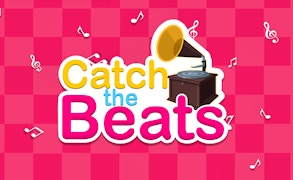 Catch the Beats
Description
In Catch the Beats, you are in control of a ball that moves to the rhythm of varied soundtracks! This dynamic arcade game combines music and skill, presenting a unique challenge. Your ball follows a set track and your task is to catch all the beats that appear on your way. The speed and difficulty increase with each level, ensuring an unforgettable gaming experience.
How to Play
To play Catch the Beats, use your mouse or touchpad to move the ball along the track, attempting to hit each beat that comes your way. The beats move in sync with the music, creating a rhythmic pattern! The game progresses as you successfully hit more beats and advance through levels, which steadily increase in difficulty.
Tips and Tricks
Master your timing in Catch the Beats! To score high, try aligning your movements with the rhythm of the music. Listening carefully to the soundtrack can help anticipate beat patterns. Also, keep practicing! As difficulty increases, so does the speed of beats!
Features
Stunning graphics and visually appealing gameplay.
Multiple levels of increasing difficulty.
Energetic soundtracks for different levels.
Rhythmic beat patterns for immersive gaming experiences.
What are the best online games?