Catch the Apple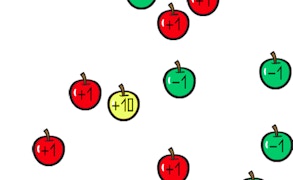 Catch the Apple
Description
Embark on an exciting adventure in Catch the Apple, a delightful children's web game that will keep them engaged and entertained. Set in a colorful world filled with juicy apples, players control an eager animal trying to catch as many apples as it can. The game features vigorous and playful gameplay that blends lively visuals with stimulating puzzle elements designed for kids.
How to Play
The game is straightforward to play - The animal moves on its own and your goal is to guide it in the right direction using your mouse clicks or touch controls. You need to strategize your moves to ensure that the animal catches maximum apples while avoiding any obstacles. The more apples you catch, the more points you earn, allowing you to progress further into the game.
Tips and Tricks
Always keep an eye on your animal's path and predict its movement for better apple-catching. Use strategic clicks rather than random ones. Moreover, time your moves carefully to avoid obstacles and remember, quick reflexes can often tip the scales in your favor!
Features
Cute animal graphics: Enhances visual appeal for children.
Puzzle elements: Adds a layer of strategy to gameplay.
Interactive gameplay: Encourages thinking and reflexes development.
Progressive difficulty: Keeps the game challenging and entertaining as kids advance.
What are the best online games?
Tags