Cat Girl Valentine Story Deep Water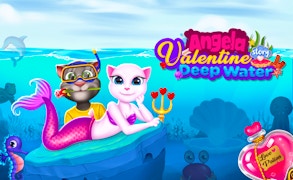 Cat Girl Valentine Story Deep Water
Description
Cat Girl Valentine Story Deep Water is a delightful and heartwarming game that focuses on Angela, a distressed cat girl. Feeling abandoned by her boyfriend, she turns to her friend for advice and embarks on an engaging adventure in search of a love potion to win back her boyfriend's heart. The game brilliantly combines elements of empathy, puzzle-solving, and adventure.
How to Play
To play this game, you'll guide Angela through different stages of her adventure using your mouse or touch screen. You'll navigate various scenarios, overcome obstacles and solve puzzles. Each successful action will edge Angela closer to the precious love potion. Progress in the game is achieved by successfully completing each stage and winning back the affection of Angela's boyfriend.
Tips and Tricks
Timing is crucial in this game, especially when overcoming obstacles. Always observe patterns before making a move. Be keen on hidden objects as they might contain essential items for your journey. Lastly, remember that every decision you make affects Angela's quest – so think carefully!
Features
Educational: The game teaches children about problem solving and empathy.
Puzzle-solving: Various puzzles to keep players engaged.
User-interactive story: Players directly influence the story through their actions.
Vivid graphics: The game boasts colorful visuals and engaging animations.
Suitable for kids:: Its story line is appropriate and entertaining for children.
What are the best online games?