Cat Belly Rub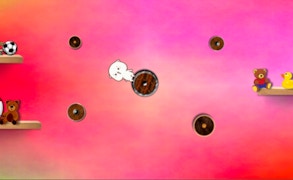 Cat Belly Rub
Welcome to the endearing world of Cat Belly Rub, an enchanting and delightful addition to the wholesome genre of cat games and animal games designed lovingly for kids. This arcade-style game is family-friendly, introducing players to a lovable feline friend that's guaranteed to become a favorite companion on their gaming journey.
The game premise is simply irresistible: you get to rub the belly of an adorably animated little kitten! Picture yourself in your living room, spending hours playing with your virtual pet. The therapeutic action of gently stroking the furry belly till the bar fills up and you proceed to the next level is not only fun but also soothing. It's like having a real pet but without any allergens or messes!
Cat Belly Rub has flawlessly integrated a feeding mechanic, where players can feed their cuddly little feline in between belly rub games. This introduces a layer of pet care responsibility for kids, making Cat Belly Rub more than just a regular cat game. It's a nurturing adventure that teaches compassion and patience.
The game also includes a diamond collection feature, adding excitement for players as they gather these sparkling gems while interacting with their beloved kitten. Every belly rub session and feeding time reward players with these shiny treasures, spiking interest and encouraging continuous play.
If you are on the hunt for a fun, family-friendly game that combines elements of cute animal interaction with soft arcade mechanics, then look no further than Cat Belly Rub. As one of the standout titles in the ever-growing genre of games for kids, it's an absolute must-play for those seeking light-hearted gaming experiences centered around adorable animals.
Optimally designed from its visuals to gameplay mechanics, this vivid cat game promises good times and joyful moments for all ages. Dive into the charming universe of Cat Belly Rub; once you start playing, it's going to be purr-fectly hard to stop!
What are the best online games?
Tags