Cars Driver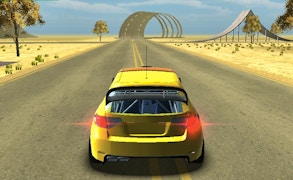 Cars Driver
Prepare to strap on your seatbelts and rev up your engines because Cars Driver is about to take you on a thrilling journey of high-speed car games like no other. Immerse yourself in the heart-pounding world of ultimate car racing, drifting, and driving games that is designed to make every second behind the wheel count.
In Cars Driver, you are presented with an exciting line-up of multiple cars. From rugged off-roaders to turbocharged track stars, each car offers a distinct driving experience. Feel the raw power of a muscle car or the smooth handling of a luxury sportscar. The attention to detail within these virtual machines offers an uncanny resemblance to their real-life counterparts that will leave any car enthusiast impressed.
Explore different terrains with multiple maps. Whether you fancy a high-speed chase through a bustling cityscape or prefer mastering the art of drifting in mountainous zigzags, Cars Driver has got you covered. Each map is designed meticulously with unique challenges that will test your skills as a virtual motorist.
The real magic happens when you merge drifting games and driving games together in this adrenaline-filled spectacle. The drifting mechanics are remarkably well-implemented. They require precision, timing, and speed - the trifecta for any hardcore racing gamer.
Cars Driver is undoubtedly raising the bar for car games and driving games alike. It's time to go beyond traditional racing games and embrace this comprehensive platform that perfectly captures the thrill of the race. Embodying more than just a game, but an experience, one that pushes boundaries and sets new standards for exhilarating play.
In conclusion, if you are looking for the crème de la crème of car games or are seeking to quench your thirst for captivating drifting games then look no further than Cars Driver. Buckle up and journey into this fast-paced realm where every driver's dreams come true.
What are the best online games?