Car Wash With John 2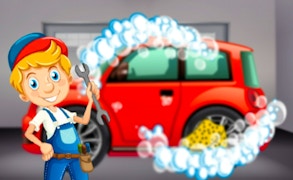 Car Wash With John 2
Roll-up your sleeves and jump into the whimsical world of Car Wash with John 2! This delightful, kid-friendly puzzler is perfect for young minds who revel in the exhilaration of car games. It's not just about racing your vehicle down tracks, but also taking good care of your four-wheeled companions.
In this engaging sequel, you and the lovable John dive into an enchanting car wash adventure. The journey begins with selecting one out of five fascinating cars. But it doesn't just end there. You're tasked with maintaining and decorating your chosen vehicle, lending a unique twist to traditional games for kids.
The fun kicks up a notch as you take your gleaming machine for a drive. After completing two thrilling laps around vibrant tracks, you have the opportunity to switch things up and continue the game with various other cars. The dynamic gameplay will keep young gamers on their toes despite its iterative cycle.
Car Wash with John 2 thus blends elements of grooming, creativity, and driving into one fun-packed ride that's perfect for developing motor skills and strategic thinking in children. With its vibrant graphics and charming characters, it manages to turn even a mundane chore like washing cars into a game that's exciting.
Whether your kid is an ardent fan of car games, or just looking for a new game to enjoy, Car Wash with John 2 fits the bill. Its engaging mechanics are bound to keep them entertained while stimulating their problem-solving abilities subtly.
In conclusion, if you are on the hunt for
games for kids
, look no further than the joyous ride that is
Car Wash with John 2
. It's not just another car-themed time pass but an intriguing puzzler that offers educational benefits in disguise.
What are the best online games?
Tags