Car Stunt Rider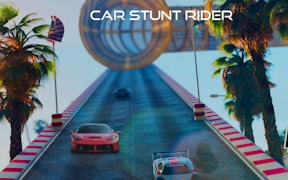 Car Stunt Rider
Strap in and brace yourselves, racing enthusiasts, as we dive headfirst into the thrilling world of Car Stunt Rider, an adrenaline-fueled addition to the roster of car games that promises a high-octane virtual driving experience.
Skillfully navigating the niche of drifting games, Car Stunt Rider affords gamers the freedom to execute heart-stopping stunts and breathtaking twists and turns, all at a breakneck pace. The game strikes a harmonious balance between steering, speed, and spectacle, taking gamers on an exhilarating journey where they can push their virtual driving skills to the limit.
An extension to exciting driving games, Car Stunt Rider boasts multiple levels of unique challenges that are as unpredictable as they are engaging. Each level ups the ante, compelling players to adapt, strategize and muster every ounce of bravery to steer their vehicles across challenging terrains and through daunting obstacles.
Beyond its thrill-packed gameplay structure, another standout feature is its wide range of cars on offer. From classic muscle cars screaming raw power to sleek sports cars embodying speed and finesse, Car Stunt Rider captures the unique charm and appeal typically associated with epic car games.
To sum it up, Car Stunt Rider is an addictive blend of high-speed racing and gravity-defying stunts. It's a testament to how far driving games have come in terms of providing exhilarating gameplay experiences. Whether you're a casual gamer looking for some fast-paced fun or a determined thrill-seeker bent on topping the leaderboards in your favorite drifting games, this daring driver's dream will not disappoint.
What are the best online games?