Car RacerZ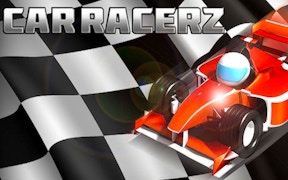 Car RacerZ
Description
Drive into the world of Car RacerZ, an exciting top-down racing game tailored for kids! This game skillfully blends simplicity and fun, offering an exhilarating experience through its engaging race tracks and cars. Race against intelligent AI and gain an extra edge with power-ups to zoom past your opponents. The captivating sounds and music provide an immersive feel.
How to play
The game controls are pretty straightforward - press the gas and brake buttons to adjust your speed while using the arrows to steer your car. Navigate around the diverse tracks and outwit your competitors by utilising the power-ups. Master these controls, gain speed, and lead the race!
Tips and Tricks
Pick up power-ups whenever possible - they can give you a significant advantage. Pay attention to the track layout to plan your strategy and remember, it's not always about speed - a good balance between speed and control leads to victory in Car RacerZ.
Features
User-friendly controls perfect for kids.
Splendid sound effects and captivating background music.
A selection of two distinctive race tracks.
Four unique cars for personalized racing experience.
An array of power-ups adding a thrilling twist to races.
What are the best online games?