Car Mechanic 2017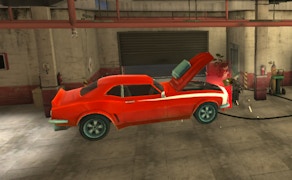 Car Mechanic 2017
Step into the greased up world of Car Mechanic 2017, a top-tier entry in the arena of arcade car games and mechanic simulator games. For those yearning for an immersive, career-oriented gaming experience teeming with learning opportunities and hearty fun, your search ends here.
In Car Mechanic 2017, players don the overalls of an auto mechanic, steering their careers on the sinuous track of vehicular maintenance. Reminiscent of the fun and frolic of childhood days spent fixing toy cars, this title harks back to those simpler times yet upscales them into a realistic adult playground. It's not just a game; but an education in mechanics, camouflaged in enjoyable gameplay.
The controls are nifty and straight-forward: WASD keys for movements - a nod to classic gaming that will resonate with seasoned gamers. Yet again reaffirming that this is a game that wears its gamer-friendly heart on its sleeve.
Car Mechanic 2017 takes pride in its layered complexity as much as its accessibility. It's instructive without being mundane; it's challenging without being disheartening; it's meticulous without losing sight of entertainment. This intricate balance is a rare blend seldom seen in car games, and even more rarely perfected as it is here.
The ultimate charm lies in its realistic representation of a car mechanic's life. As you delve deeper into this simulator game, you realize that every nut bolted, every cylinder checked is drawing you further into this grease-streaked Wonderland where realism melds with recreation.
In conclusion, Car Mechanic 2017 lays down the gauntlet for other simulator games. With its potent combination of career-focused gameplay, lifelike graphics and pitch-perfect difficulty curve, it indeed revs up the engine for an unmatched gaming experience!
What are the best online games?
Tags