Car Eats Car: Volcanic Adventure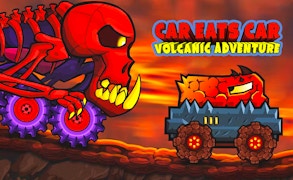 Car Eats Car: Volcanic Adventure
Dive headfirst into the thrilling world of Car Eats Car: Volcanic Adventure, the newest sensation in the realm of racing car games. This dynamic and high-octane game brilliantly combines elements from driving games and monster games to create a relentlessly entertaining experience.
As you begin your journey, you'll find yourself in a gritty, adrenaline-pumped race on the highway, where rivalries come to play and your driving skills are put to the ultimate test. However, this isn't your typical racing game - it's survival of the fittest as you are not just outrunning rivals but also jostling against tough cops hot on your trail. This unique twist breathes new life into the genre, making Car Eats Car: Volcanic Adventure stand out amongst other car games.
This game excels not only in its intense chase sequences but also in its engaging storyline. The mission? To free your friends - evil cars imprisoned and awaiting your audacious rescue. The narrative element gives you a purpose beyond just achieving turbo speed, adding an extra layer of excitement to this driving simulator.
What further sets this game apart is its distinctive incubator feature, allowing you to build your own monster car for battle. As part mechanic's garage and part evolution chamber, you can become a true car tycoon, upgrading cars and unleashing monstrous vehicles onto the highway for high-paced races against cop cars.
In essence, Car Eats Car: Volcanic Adventure is an exhilarating fusion of driving games and monster games that thrusts players into a world where speed is paramount, risks are indispensable and victory is always at hand if they dare to seize it. It's time to fasten your seat belts and gear up for an unforgettable ride!
What are the best online games?