Car Eats Car: Underwater Adventure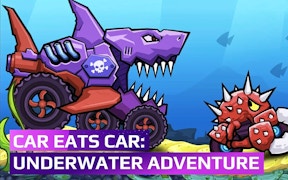 Car Eats Car: Underwater Adventure
Welcome to the dynamic dive into deep waters with Car Eats Car: Underwater Adventure. Riveting and exhilarating, this game gets under your skin as it merges elements from car games, driving games, animal games, monster games, and even sharks games. So buckle up, folks! This is not your average racing challenge.
Doubling as a driving simulator and a police chase game, Car Eats Car offers a unique blend of speed and strategy. This is where your driving skills will be put to the ultimate test. Right off the bat, you're hit with high-octane racing action that models real-world physics while retaining a sense of fun and adrenaline.
Where this game truly shines is in its car creation feature. With the built-in incubator system, you get to create and upgrade your own cars. Transforming these automotive beasts into monsters can be deeply satisfying - a nod towards the more creative gamers amongst us.
But hold on to your steering wheels because Car Eats Car takes a deliciously dark turn! Your friends have been imprisoned by evil cars - yes, you read that right! Now it's up to you to step up in this unique rescue mission rendered in stylish graphics reminiscent of monster games.
The endgame? Ultimate confrontation against the boss for survival in crazy races that will leave you breathless. So if you're looking for a wild ride that combines elements from various genres - from car games, driving games, animal games, monster games to even Sharks games - then look no further than Car Eats Car: Underwater Adventure.
This brutal yet delightful mix of terror and acceleration will certainly spark up your inner car tycoon while making sure you stay glued to your screens!
What are the best online games?