Car Driving Stunt Game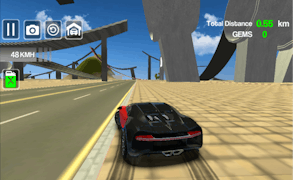 Car Driving Stunt Game
Welcome to the dizzying world of Car Driving Stunt Game, a sterling title that takes car games, drifting games, and driving games to exhilarating new heights. Embark on an adrenaline-fuelled odyssey where ordinary roads morph into roller-coaster-like stunt tracks and your driving skills are put to the ultimate test.
The game starts in the heart of a magnetizing Garage, filled with a brilliant array of super fast and powerful cars. Imagine stepping into a candy shop, but instead of sweets, it's bustling with shiny top-tier speed machines, ripe for the picking. In this game, you're not just a driver; you're an explorer venturing out through the dazzling cityscapes, treacherous off-roads, expansive airports, icy landscapes and dirt plains. Such diverse environments have truly redefined the boundaries of simulator games.
This is not just about evaluating your driving skills; it's about testing your nerve as well. The game sets you on an electrifying journey where ramps have been erected sky-high and every jump sets a new record. Each leap is like shooting for the moon; whether you land among gems or crash-land back onto unforgiving concrete is entirely up to how well you control your throttle and brakes.
The real-time temptation of gems scattered across these extreme roads only boosts the excitement quotient. Collecting these gleaming treasures unlocks additional special vehicles that elevate your driving experience to cloud nine.
Car Driving Stunt Game has cleverly integrated elements of Skill Games, making it a princely addition to any gaming library. Not only is this stimulating title perfect for fans of high-octane racing action but it also serves as an excellent benchmark for what future car games should aspire to achieve.
What are the best online games?