Candy Sweet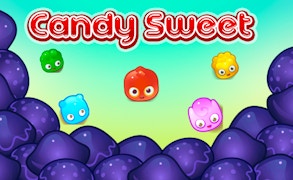 Candy Sweet
Description
Indulge in a delightful and engaging experience with Candy Sweet, a fascinating puzzle game filled with mouth-watering candies. The essence of the game is to create alignments of three or more identical candies in order to crush them and score points towards the set goals. With its tantalizing visual effects and riveting gameplay, it's certain to keep you hooked for hours.
How to play
To play, simply click or tap on a candy and swap it with an adjacent one to form a line of three or more matching candies. Successfully doing this causes the candies to crush and disappear, thereby earning you points. Progress through various levels by achieving pre-set goals, which could range from gathering specific types of candies, obtaining a certain number of points, to clearing particular obstacles.
Tips and Tricks
You should aim for combos!. Crushing four or five candies at once creates specially flavored super-candies that can clear entire rows or columns, or even all candies of a certain color. Remember, your moves are limited per level so make sure they are strategic and efficient!
Features
Diverse Levels:The game features numerous challenging levels with varying objectives.
Captivating Visuals:Candy Sweet is designed with delightful graphics that are pleasing to the eye.
Addictive Gameplay:This match-3 puzzle game captivates players with its addictive gameplay mechanics.
Friendly User Interface:The on-screen controls are user-friendly, making it easy to interact with the game.
What are the best online games?
Tags