Candy Star Jelly Saga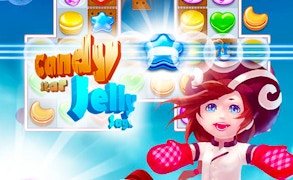 Candy Star Jelly Saga
Description
Dive into a vibrant world filled with delightful sweetness in Candy Star Jelly Saga. This visually appealing game offers an immersive match-3 experience, peppered with challenging puzzles spread across 200 levels. Engage your senses in this indulgent treat that promises many hours of captivating gameplay. With its simple, yet captivating mechanics, it's perfect for players of all ages.
How to play
The controls of Candy Star Jelly Saga are straightforward and intuitive. Just click and swap adjacent candies to form a row or column of 3 or more identical candies. As you progress through the game, you'll encounter a variety of challenges that require quick thinking and strategic maneuvers. Keep an eye on the move counter and make each action count!
Tips and Tricks
Plan your moves carefully in order to create powerful combinations in Candy Star Jelly Saga. Specifically aim to match four or more candies together for special candy effects. Maximizing your moves will help earn higher scores and potentially clear the board faster, making advance to higher levels easier.
Features
Stunning graphics: Enjoy a visually pleasing gaming experience.
Variety of levels: With 200 different stages, it keeps the player engaged.
Straightforward controls: Easy to understand and play, suitable for all age groups.
Different Challenges: Keeps the game interesting, prevents monotony.
What are the best online games?