Candy Riddles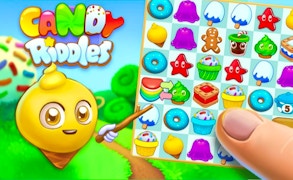 Candy Riddles
Prepare to embark on a delightful journey filled with sweets and confectionery artistry in the tantalizing world of Candy Riddles, the ultimate destination for match 3 games enthusiasts. A sweet serenade for puzzle aficionados, Candy Riddles is a seamless amalgamation of child-like charm and cerebral challenge that lends itself brilliantly to becoming one of the most loved games for kids.
In this captivating game, you'll encounter lovable cookie characters and vibrant candies that come alive with fun animations. Your mission? To navigate through a plethora of challenging levels, each demanding strategic matching of delectable combos! The gameplay is as exciting and assorted as the variety of candies it presents - from connecting delicious ice creams to popping irresistible cupcakes!
What makes Candy Riddles truly special though is its ability to ignite joy, stimulate your brain, and feed your sweet tooth simultaneously. With every match three sequence that you strategize, your rewards are not only in-game prizes but also an unstoppable smile and an indelibly memorable gaming experience.
The whimsical charm of Candy Riddles, combined with mind-bending puzzles that demand both skill and creativity, places it on a high pedestal among other match 3 games. Undeniably addictive yet brilliantly challenging – Candy Riddles serves as an unforgettable treat that will hook not just kids but also adults to its alluring gameplay.
Dive into this sugary world where candies acquire a new dimension, cookies become your companions and each level unfolds new riddles wrapped in colorful confectionery! Be it for honing cognitive abilities or simply immersing in a virtual candy-land - adding Candy Riddles to one's gaming repertoire can be the sweetest move ever made!
What are the best online games?
Tags