Candy Match Game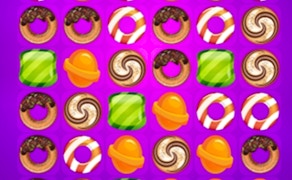 Candy Match Game
Calling all pint-sized puzzlers and candy connoisseurs! Get ready to dive into one of the most scrumptious and brain-stimulating games for kids— the tantalizing Candy Match Game. Providing an absolutely toothsome twist to the classic genre of match 3 games, this game is guaranteed to keep your little ones engaged while sharpening their problem-solving skills.
Just like visiting a candy store, the Candy Match Game is sure to excite with its brightly colored, visually appealing graphics and engaging gameplay. A virtual sugary wonderland awaits players, with levels that are as diverse as a bag of mixed lollipops. This game isn't just about visual indulgence; it's also a brilliant way for kids to boost their cognitive abilities in a fun-laced environment!
The premise of the Candy Match Game is simple – align three candies of the same kind in a row or column to score points. Sounds easy, doesn't it? But as you venture further into this candy universe, you're bound to encounter puzzles that will test your strategic thinking and quick decision-making abilities.
One can't help but applaud the developers for creating such fun addictive candy matching games. The thrill of reaching new levels, combined with adorable candy-themed challenges, truly makes this an irresistible gaming treat for kids.
If you're looking for an entertaining way to keep your young ones engaged while also stimulating their minds – you've hit the jackpot with Candy Match Game! So come on board this delightful journey through Candy Land, where every play translates into pure bliss!
To sum it up: Candy Match Game is more than just one of those ordinary match 3 games; it's an exciting expedition that blends fun with learning effortlessly. If games were candies, then this one would definitely be every kid's favorite gobstopper!
What are the best online games?
Tags