Candy Fever Game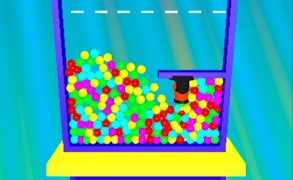 Candy Fever Game
Welcome to the vibrant world of Candy Fever, a delightful addition to the universe of hyper casual games that will leave you hankering for more. This game is a splendid confectionery twist on traditional ball games, loaded with sweetness in every level.
At its core, Candy Fever is simple and straightforward - your mission is to reach the target line using your ultimate candies. But don't let that simplicity fool you. Each progressive level ramps up the challenge, enticing you to return for just one more try.
The main strategy revolves around careful mouse movements that determine the direction and momentum of your candy. The key? Timing and precision. The game demands finesse and skill, turning what initially appears a simple play into an addictive challenge that keeps you engrossed from start to finish.
Candy Fever's graphics are a visual treat - bright, colourful, and charmingly cartoonish. Designed with a perfect blend of delicious looking candies against fun backgrounds, it's practically irresistible. Equally compelling is its cheerful soundtrack that complements the overall gaming experience flawlessly.
In essence, Candy Fever brings together all the elements that make arcade games beloved by gamers of all ages - casual yet intense gameplay, easy controls, exciting challenges, vivid graphics and engaging audio.
If you're a fan of hyper casual games and ball games, or just looking for a fun way to burn some time, dive into Candy Fever. It's not just a game; it's an addictive journey through a gloriously sweet arcade wonderland!
The conclusion? Candy Fever hits all the right spots for an arcade lover with its appealing visuals and addictive gameplay leaving you with one mantra: Just one more candy!
What are the best online games?