Candy Connect Game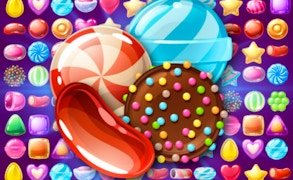 Candy Connect Game
If you're in search of brain games that challenge your intellect and tickle your sweet tooth simultaneously, then the Candy Connect Game is your golden ticket to a sugar-coated puzzle world. This addictive gem from the realm of mahjong games is a test of speed, keenness, and strategy, creating a delicious blend of fun and mental exercise.
Experience an exploration through candy land where your task is as simple as it is indulgent - match pairs of delicious candy tiles. But don't let the delectable exterior fool you; underneath lies a brain game that will stimulate your mental faculties like no other. The Candy Connect Game allows you to demonstrate your prowess at pattern recognition and quick-thinking decision-making, all while enjoying a lush visual feast of colorful sweets.
The beauty of this game lies in its flexibility. Whether you're in for an easy breezy playtime or up for a nerve-wracking adventure, Candy Connect has got you covered. With three difficulty levels - easy, medium, and hard - tailoring the game to fit your mood or skill level is as easy as pie...or should we say candy? And if you ever find yourself stuck in a sticky situation, use the handy hint option or shuffle feature to get back on track.
This delightful matching game does not merely entertain; it engages the mind and sharpens the cognitive abilities. So whether you're a fan of mahjong games looking for a luscious new challenge or someone looking for brain games that combine fun with mental agility, Candy Connect Game promises an experience that's as enriching as it is enjoyable.
Dive into this sugar-sprinkled world today –PLAY NOW! Remember, every second counts in these exhilarating time-restricted rounds. Competition has never tasted so sweet!
What are the best online games?
Tags