Candy Bubble Game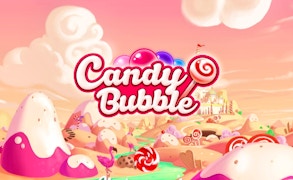 Candy Bubble Game
Do you crave a gaming experience that will tickle your taste buds and test your strategic skills? Then Candy Bubble Game is the perfect treat for you. This addictive entrant in the realm of Bubble Shooter Games is a delight for kids and adults alike, serving up sugary fun without any of the caloric guilt!
A gem among ball games, Candy Bubble Game takes the classic bubble shooter format and coats it with a delightful confectionery theme. The aim? Match three or more candy bubbles of the same type to pop them, clearing the board one colorful explosion at a time. Sweet, simple, and utterly satisfying.
But don't be fooled by its sugary exterior. This is no mere child's play! In addition to being one of the top Games for Kids, it also offers a decent challenge for older players. It demands strategic thinking, precision aiming, and quick decision-making. With each level, the game increases in complexity, keeping players on their toes and endlessly entertained.
The vibrant graphics are eye-candy in every sense of the word. Every bubble pop is a burst of color and excitement—like unwrapping your favorite piece of candy! The upbeat sound effects add to the fun-filled atmosphere, amplifying every victory with an echo of joyous jingles.
In summary, Candy Bubble Game is more than just another game—it's a love letter to all lovers of Bubble Shooter Games and ball games. So whether you're seeking a new gaming challenge or hunting for an engaging pastime for kids, prepare yourself for an avalanche of sweet enjoyment with Candy Bubble Game!
What are the best online games?