Candy Blocks Game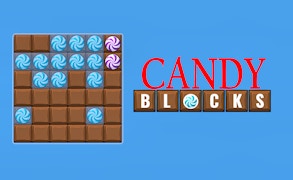 Candy Blocks Game
Description
Immerse yourself in the joyful world of Candy Blocks Game. This engaging puzzle game offers a unique twist on the traditional block-arranging challenge, with colorful candy blocks that need to be deftly aligned to clear rows and rack up points. Hone your strategic thinking abilities as you navigate through increasingly complex levels, while enjoying an aesthetic filled with vibrant candy-themed visuals.
How to play
Control the candy blocks using your keyboard arrows or touchscreen controls, moving and rotating them as they descend to find the perfect placement. Clear rows by filling all the spaces without any gaps, causing those rows to disappear and score points. The game is over when the growing tower of blocks reaches the top of the screen. Challenge yourself to achieve higher scores in each game!
Tips and Tricks
Maintain a balanced layout of blocks, avoiding stacking too high on one side. Always aim to clear more than one row at a time for bonus points. Pay attention to upcoming blocks and plan your moves in advance to maximize efficiency and score.
Features
Vibrant, candy-themed graphics that offer an appealing visual experience.
A classic block puzzle game with a unique, sweet twist.
Easy-to-use controls suitable for players of all ages.
Addictive gameplay that encourages strategic thinking and quick decision-making.
What are the best online games?