Butterfly Shimai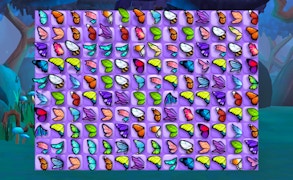 Butterfly Shimai
Unveiling the magical world of Butterfly Shimai, an enchanting blend of animal games and mahjong games. This board game takes you on a mesmerizing journey through intricate patterns that beautifully capture the essence of majestic butterflies, creating a captivating gaming environment.
Delicate and vibrant like the very creatures it portrays, Butterfly Shimai offers a sensory feast for both casual gamers and seasoned mahjong enthusiasts. Unraveling this game is akin to pursuing a butterfly through an enchanted meadow, one filled with rich hues, unexpected twists, and rewarding triumphs.
The gameplay is as simple as it is compelling. It follows the traditional rules of mahjong but introduces some nuances suitable for animal game lovers. The goal: clear all butterfly-themed tiles from the board by connecting pairs. However, it's not as easy as it sounds. The butterflies flutter in unpredictable patterns necessitating strategic planning before each move.
If you find your path blocked by other tiles or too many turns required to connect two identical butterflies, fret not! Butterfly Shimai also includes power-ups that allow you to shuffle the board or get hints when helplessly stuck - reinforcing its position in the realm of challenging yet accessible mahjong games.
No review would be complete without mentioning the striking visuals that transport you into an ethereal realm brimming with shimmering butterfly wings. Paired with a soothing soundscape that complements gameplay like dew on a spring morning, Butterfly Shimai achieves an engaging and therapeutic gaming experience.
In summary, whether you are an ardent fan of animal games, a devotee of mahjong games, or someone seeking solace in nature's beauty, Butterfly Shimai weaves these threads into one stunning tapestry. It presents not just a game but a serene oasis where strategy meets serenity.
In conclusion, navigate through this enchanting universe at your own pace for hours of tranquility and strategic joy.
What are the best online games?