Bus Stop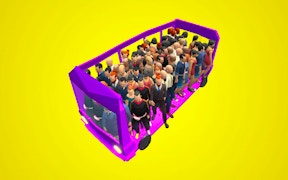 Bus Stop
Immerse yourself in the urban jungle's hustle and bustle with Bus Stop, a delightful new addition to the world of racing games. Its perfect blend of pick-and-drop gameplay and intense time management will put your multi-tasking skills to the ultimate test. So, put on your driver's hat as you embark on this thrilling journey through bustling cityscapes and picturesque rural vistas.
As a driver in Bus Stop, you're more than just a transporter; you're a lifeline for the city's unsuspecting patrons looking for a ride. This captivating angle makes it an engaging cross-over between driving games and parking games.
The attention to detail within this game is impressive. Each level brings new challenges, keeping the game fresh and exciting. You must skillfully navigate through intricate traffic grids, meticulously park your vehicle at designated spots, all while time ticks away relentlessly. The pressure is real, making it an immediate standout amongst other truck games.
This adventure escalates its difficulty level organically, providing gamers with the right amount of challenge without overwhelming them. The controls are intuitive, making navigation around obstacles feel natural, truly immersing players into their role as bus drivers.
To call 'Bus Stop' another racing game would be an understatement. It elegantly blends elements from different game genres into one entertaining package that keeps gamers hooked for hours on end. So buckle up, switch on your engines, and get ready to experience public transport like never before in this exciting crossover between driving-games, parking-games, truck-games!
If you have been hunting for a game that tests your skills and patience simultaneously, then 'Bus Stop' is your ultimate destination. It's time to take the driver's seat and redefine your gaming experience!
What are the best online games?