Bus Parking 3D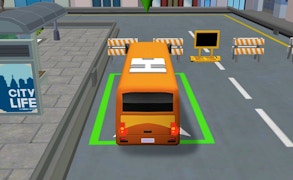 Bus Parking 3D
Test your mettle in the high-stakes world of vehicular maneuvering with Bus Parking 3D, a standout entry in the parking games and driving games genre. Embrace the role of a professional bus driver and plunge into a realm where precision, timing, and control are key. This game isn't just about hitting the gas and breakneck speed; it's about demonstrating the finesse needed to park that colossal beast on wheels.
Bus Parking 3D serves up a whopping 100 levels, each one more challenging than the last. The game's dynamic complexity is embraced by an assortment of both novice and expert gamers who love car games. Even die-hard fans of truck games can't resist this immersive experience that tests not only your practical driving skills but also strategical planning.
Your mission, should you choose to accept it, is deceptively simple: park your bus in the designated spaces. But don't be fooled - each level comes with its own intricate maze of obstacles and traffic cones that will challenge even the most seasoned players. The real appeal lies in the sheer satisfaction that comes from executing a flawless parking job. Doing so under pressure only amplifies this feeling.
This game is essentially an invitation to prove yourself as the ultimate Bus King! Every level conquered is another testament to your persistent prowess and determination. So step on board, take hold of that steering wheel, and navigate your way towards parking perfection with Bus Parking 3D.
In conclusion, whether you are a fan of adrenaline-pumping racing games or prefer slow-paced strategy titles, Bus Parking 3D, with its unique blend of complexity and simplicity, delivers an immensely satisfying driving experience sure to put your navigation skills to test.
What are the best online games?