Bumper Ball io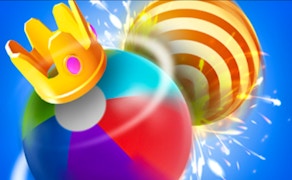 Bumper Ball io
Ever craved the ultimate battle games experience with an infusion of survival strategy and non-stop fun? Then you might want to buckle up and get ready for Bumper Ball io! This hyper-casual .io game is an adrenaline-packed thrill ride that will keep you hooked from the word 'Go'.
Bumper Ball io is one of those fun games that perfectly combines strategy, speed, and the pure pleasure of knocking your opponents off track. With every rival you defeat in this fast-paced battle, your size changes, adding an exciting twist to your survival journey. The joy of becoming the last person standing on the map - laughing at the chaos you've outlasted - is simply unmatched.
The essence of this survival game lies in its unpredictability. Your size alters with each victory, making it a constant adjustment to maintain balance and stay within the safe zones, all while figuring out how to send your opponents flying off the stage. The continuous change in size not only increases your chances of survival but also makes you a bigger threat to others, ensuring every round of Bumper Ball io is a nail-biting adventure.
In a world where battle games are too many to count, Bumper Ball io manages to stand out by offering rapid gameplay, unique mechanics, and an immersive environment that keeps players coming back for more. Stepping into this game feels like entering a virtual paintball arena - it's risky and unpredictable yet tremendously rewarding.
The exciting world of Bumper Ball io awaits you! Brace yourself for an exhilarating mix of strategy, survival tactics, and high-energy battles that will keep you on the edge of your seat, proving once again that when it comes to .io games, simplicity is the ultimate sophistication.
What are the best online games?