Build Royale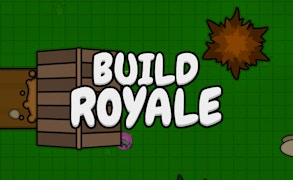 Build Royale
While Fortnite can be credited with starting the battle royale trend in gaming, it also introduced the idea of fast-building which is included in games like Build Royale. It's a 2D top-down battle royale experience that really wants to push the idea of building defenses while on the offensive as well. It combines fast-paced gunplay with resource management and building an open map with various structures throughout. In terms of battle royale games, it's a solid introduction to the series with a presentation that allows you to familiarize yourself with all the necessary concepts and mechanics. It's a solid depiction of what such games can be like.
About Build Royale
The thing about battle royale games is that they can be very aggressive with most players focusing on hunting each other. This means that it can be difficult for beginners to get a foothold in it, but this game offers a good space to get some practice for those interested in such games. The perspective makes it easier to take in all the information and act accordingly while also outlining all important and interactable elements. It's got a lot of flash and flair for some amusing feedback which can be enjoyable to experience as you explore and fight.
How to Play
With gathering, building, and gunplay mechanics, Build Royale has a fair number of controls to learn but you can memorize them quite easily.
PC Controls
Mouse Cursor - Look/Aim
Left Mouse Button - Use Equipped Item
W - Move Up
S - Move Down
A - Move Left
D - Move Right
Shift - Sprint
Spacebar - Jump
E/F - Interact
Tab - Inventory
Q - Build
M - Map
N - Minimap
Number Keys - Cycle through Items/Weapons
Xbox-Style Controls
Left Analog Stick - Look/Aim and Move
RT - Use Equipped Item
Y - Reload
A - Jump
X - Interact
Back - Inventory
B - Build
LB/RB - Cycle through Items/Weapons
No matter what game mode you play, the goal is the last as long as you can and eliminate all your opponents. You can find weapons and items by exploring, raiding chests, and collecting the drops of defeated opponents. You can use your pickaxe to harvest resources from trees and stones which can be used to build walls. The game ends when either you are eliminated or you (and any allies) are the only ones left standing.
Tips and Tricks
The game is online and depends on a strong internet connection otherwise you'll have to deal with multiple lagging issues. Get used to moving around constantly and in random patterns in order to avoid being pinned down. If you don't have enough resources to build walls, you can use trees and stones for cover as well as structures like houses.
Build Royale Game Modes
There are currently three main game modes with a fourth that is temporary with the chance to change in the future.
Solo - It's just you against everyone else so do your best.
Duos - You and a partner will work together to be the last ones standing.
Squad - Get a team together to take down the other teams.
Syphon (temporary) - Spawn with random allies in a spot where you can gear up and then take the fight to your enemies.
Game Details
Developer: Rivet Gaming, LLC
Platforms: Web Browser (PC and mobile) and Android
Languages: English
Gameplay Footage
FAQs
Who is the original creator of Build Royale?
Although the game's credit is frequently given to the publisher Rivet Gaming, the main developer behind it is Mathew Matakovic.
Games similar to Build Royale
With all the mechanics in play here, this game fits into the Gun and Fun Games categories on GamePix. You can also find in those categories Battle For The Galaxy, Monster Shooter, Lolbeans, and Draw Fighter.
What are the best online games?