Bubble Trouble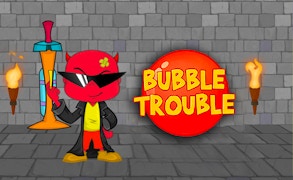 Bubble Trouble
Bubbles are one of the most whimsical things out there as you watch them form and float around, but you can't fight the urge to pop them and Bubble Trouble feeds that urge. This is a 2D arcade-style game that challenges you to pop all the bubbles that appear. While still very whimsical, these bubbles are dangerous and now you have to move deftly around them as they bounce back and forth. You're more than well-equipped to handle the spherical menace, but there is strength in numbers and these bubbles are bouncing in by the bounty. It's time to grab your gear and get popping!
About Bubble Trouble
There was a time when flash games ruled supreme and while they may not be as big as they were in the early days of gaming, they can still be quite entertaining. This game has been around for some time and is still as playable as ever. It's a game meant to remind us of simpler times when all we needed was one screen, one action, a lot of colorful enemies, and power-ups to collect. However, it's been updated to incorporate progressive level-ups so that your character gets stronger to have an easier time with the later levels and more bubbles.
How to Play
Bubble Trouble is a 2D shooting game popping bubbles that you play with just the keyboard. There's only one layout available.
Controls
Left Arrow - Move Left
Right Arrow - Move Right
Spacebar – Shoot
This is a level-based challenge with each level taking place in a contained room with bubbles bouncing back and forth on the ground. To beat each level, you need to pop all the bubbles. To do this, you need to fire ropes from your gun. You can only fire one rope at a time and it will always fly straight up, disappearing once it hits the ceiling. Bubbles can be popped with the tip or when they bounce into the rope. Every time a bubble pops, it splits into two smaller bubbles that bounce in opposite directions and with a lower height. If you get hit with a bubble or run out of time, you need to restart the level.

As you pop bubbles, there's a chance that they'll drop power-ups to help you out. They can range from giving you more time to transforming your rope into barbed wire that can be planted. By progressing through the levels, you can gain more experience that will let you rank up for additional bonuses. You can also play locally with another person to take on the challenge together and see how far you get.
Tips and Tricks
Since you can't spam the rope firing, you really need to make every shot count even if you do have upgrades. The biggest danger is getting trapped between two bubbles so always try to keep them on one side if you can. As bubbles get smaller, focus more on popping them with the rope rather than the tip.

Bubble Trouble Upgrades
The more experience you earn by playing and completing challenges, you'll get the chance to rank up. Each rank earns you a new passive bonus that can be improved with points that you get while playing.
Super Slow - Bubbles move more slowly, but can't be combined with the slow motion power-up.
Phase - You become immune to all bubbles, but you can't get any power-ups.
Last Breath - Gives you some extra time if the timer happens to run out.

Game Details
Developer: Kresimir Cvitanovic
Platforms: Web Browser (PC and mobile), iOS, and Android
Languages: English

Gameplay Footage
FAQs
Can you play Bubble Trouble online?
Even though the game offers a two-player option, it can only be played locally. If you're playing on the Web Browser, you'll need an online connection to do so.

When did this game come out?
Bubble Trouble is a pretty old Flash-era game that was first released in 2002.
Games similar to Bubble Trouble
With the style and controls of this game, you can find it in the Arcade and Ball Game categories on GamePix. In these categories are titles like Dunk Fall Game, Light It Up Online, Tap Tap, and Love Balls.
What are the best online games?
Tags