Bubble Spirit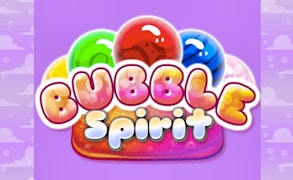 Bubble Spirit
Brace yourselves, arcade enthusiasts, as we delve into the delightful world of Bubble Spirit, a gem among match 3 games and an absolute spectacle in the realm of ball games. If you are on the prowl for a captivating gaming experience that is more than ordinary ball games, Bubble Spirit will effortlessly spark your gaming spirit.
Bubble Spirit is designed around a simple yet addictive concept: you need to combine at least three same-colored bubbles to eliminate them from the field. The simplicity of this premise allows players to dive into the game swiftly while still offering enough challenge and depth to keep it interesting throughout all 50 levels.
The star rating system poses an enticing challenge in itself. The strive for perfection will see you aiming to complete each level with three stars. This adds a layer of replayability frequently absent in other match 3 games, potentially turning this casual game into a compelling obsession for high score chasers.
Bubble Spirit's charm lies not only in its engaging gameplay but also in its delightful visuals and a soothing soundtrack that promotes relaxation and focus. It's easy to lose track of hours when engrossed in this seemingly infinite bubble-popping universe.
In conclusion, Bubble Spirit stands out as a shining star among ball games. With its deceptively simple rules, increasing difficulty curve, tantalizing star challenges, and riveting gameplay, there's no doubt that it lives up to - and surpasses - the expectations one would typically have from match 3 games. Bubble Spirit is indeed an arcade title well worth experiencing!
What are the best online games?
Tags