Bubble Sorting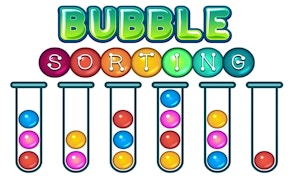 Bubble Sorting
Are you in the hunt for educational games that merge entertainment with learning? Do you have a passion for brain games that stimulate your young mind while unwinding? If yes, then allow me to introduce you to the enchanting world of Bubble Sorting – an enthralling new addition in the sphere of Games for Kids.
Bubble Sorting is captivating from the get-go. Picture this: a myriad of vibrant bubbles, all yearning to find their rightful place in their equally colorful tubes. With each level, your mission becomes clear – sort the bubbles based on their colors. The simplicity is beguiling and therein lies its brilliance.
This game does not just titillate your senses with its vivid visuals, it prods and pokes at your gray cells in the most subtle manner. All while maintaining an ambiance that screams fun! The process of sorting these bubbles sets off a chain-reaction in your brain, lighting up those neurons and honing your decision-making skills.
Bubble Sorting is not a mere game; it's an invitation to embark on a riotous journey of colors while challenging your wits, making it one of the most engaging brain games. Let's not forget about its educational values too. It's subtly teaching kids color recognition and problem-solving skills under the guise of a simple sorting game.
In conclusion, if you're after engaging, fun-filled educational games, then Bubble Sorting should be at the top of your list. It's more than just another game; it's an exceptional blend of education and enjoyment aimed right at young minds. Bubble Sorting makes learning fun - one colored bubble at a time.
What are the best online games?