Bubble Shooter World Cup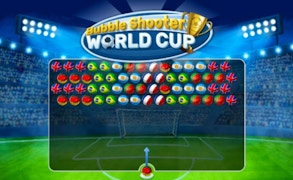 Bubble Shooter World Cup
Prepare to get your adrenaline pumping as Bubble Shooter Soccer 2, the newest addition to the thrilling realm of Bubble Shooter Games, kicks its way into the heart of every true gamer. It's not just a test of your reflexes, but a celebration of skill, strategy, and sportsmanship, blending the fervor of soccer games with the addictive allure of ball games.
The game whisks you away into an electrifying soccer stadium brimming with anticipation. Feel the stadium lights glaring down on you and hear the roar of excitement from the crowd as you take control in this high-octane arena. The game creates a palpable sense of tension that'll keep you on edge as you aim for glory. Can you stand up to this intense pressure? Can you go beyond merely surviving and truly conquer this arena in your quest for the highest score?
Bubble Shooter Soccer 2 demands that players master their technique, offering an excellent opportunity to perfect your skills while indulging in a strategic showdown that's as competitive as it is entertaining.
Immerse yourself in this unique fusion between bubble shooter and soccer game and live every moment under the spotlight. Remember – every move counts, every action has its consequence, and only those who can rise above adversity will emerge victorious.
This high-stakes sequel to the legendary Bubble Shooter Soccer is a testament to all arcade lovers' resilience and determination - a challenge issued by developers for players to prove their mettle in an endeared gaming classic reinvented.
So if you've been yearning for something that combines your love for Bubble Shooter Games with exhilarating ball games or soccer games, then Bubble Shooter Soccer 2, with its seamless play-and-score gameplay mechanics makes it unquestionably worth considering. There's more than just bragging rights at stake here – it's a matter of pride, passion, and unwavering perseverance!
What are the best online games?