Bubble Shooter Pro 2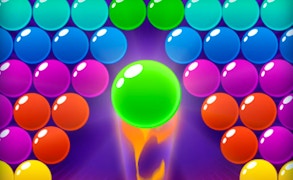 Bubble Shooter Pro 2
Welcome to the world of bubbling action and arcade thrill with the brand new Bubble Shooter Pro 2, a premium offering in the bustling realm of ball games and bubble shooter games. This is not just a game; it's an exhilarating journey into a universe filled with bubbles waiting to be annihilated by your indomitable gaming prowess.
If you thought its predecessor was impressive, wait until you embark on this high-octane sequel. More bubbles await your sharpshooting skills, more boosters to supercharge your gameplay experience, and a brand new design that will leave you mesmerized by its striking visual appeal. It's an invitation to endless hours of fun, a ticket to an unrivalled gaming adventure that makes Bubble Shooter Pro 2 one of the most engaging fun games around.
The beauty of Bubble Shooter Pro 2 lies in its simplicity. It's easy to pick up, yet offers depth and complexity that will challenge even the seasoned gamers amongst us. Your objective? Popping bubbles forming color-matching trios or more - simple enough, right? But underneath its straightforward facade lies an intricately crafted game design that keeps you coming back for more.
In the landscape of ball games and bubble shooter games, Bubble Shooter Pro 2 stands as a polished gem. Its gleaming finish mirrors the commitment with which it is carved - precise gameplay mechanics, crisp graphics, fluid controls, and addictive bubble-popping action. It's more than just a game; it's an experience not to be missed.
No matter whether you're seeking a casual gaming romp or competitive thrill, Bubble Shooter Pro 2 has got you covered. So what are you waiting for? The bubbles are lining up... it's time for you to burst onto the scene!
What are the best online games?