Bubble Shooter HD 2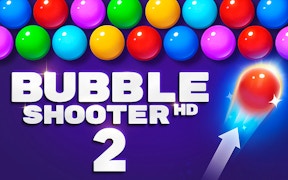 Bubble Shooter HD 2
Unleash your inner arcade aficionado with the dazzling Bubble Shooter HD 2, a scintillating sequel to the legendary Bubble Shooter game. Injecting new life into the classic ball games genre, this opus catapults you into an electrifying world of popping bubbles with an inventive twist.
The game stays true to its roots while introducing innovative features such as Stats and diverse gaming modes - Novice, Expert, and Master - catering to gamers of all skill levels. The shimmering HD graphics imbue the familiar Bubble Shooter gameplay with a shiny new coat of polish that will leave both veterans and newcomers in awe.
It's a game where every shot counts, and where achieving the highest possible score becomes an adrenaline-filled quest. The question persists - how high can you score? The thrill of breaking your own personal best or even challenging global high scorers adds another layer of excitement to this enthralling Bubble Shooter Games installment.
The game's blend of stunning visuals, smooth controls, and highly addictive gameplay makes it a standout title in the arcade realm. The sound effects complementing each popped bubble further enhances the immersive experience. Dive into this vibrant, high-definition universe where making bubbles pop is more than just a leisurely pastime - it's a test of your timing, precision, and strategy.
If you're in search for a game that delivers instant fun with an enduring appeal, look no further than Bubble Shooter HD 2. It is more than just a sequel - it's a testament that even the classics can surprise us with fresh elements if executed right.
What are the best online games?