Bubble Shooter Candy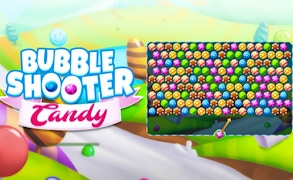 Bubble Shooter Candy
Dive into the enchanting world of Bubble Shooter Candy 2, the splendid sequel to the highly acclaimed Bubble Shooter game. Tagged among top ball games and specifically designed as a kid-friendly game for kids, Bubble Shooter Candy 2 effortlessly combines the buzzing excitement of bubble shooter games with an irresistible candy-themed interface.
The game is a colorful symphony of popping candies, where each burst is an explosion of thrill and amusement. The sweet allure of this bubble shooter game lies not just in its visually appealing layout but also in its challenging facets that keep players hooked for hours. Whether you're a casual gamer looking for light-hearted fun or a competitive player aiming at nailing the highest score, Bubble Shooter Candy 2 caters to all.
This second installment in the Bubble Shooter saga boasts more than just an upgrade, it's a revolution in its own right in the realm of bubble shooter games. Its vibrant graphics and easy-to-play structure make it a delight for kids and adults alike. The captivating world of popping candies becomes progressively challenging, ensuring that it never loses its thrill.
With Bubble Shooter Candy 2, you are not only playing another ball game, but you are also embarking on a thrilling journey to pop as many candies as you can while racing against time. As you navigate through this sweet universe, you will be on a quest to beat your own high score, making every gaming session feel fresh and new.
If you're on the hunt for engaging and visually enticing games for kids, look no further than Bubble Shooter Candy 2 – It's not just a game; it's a bundle of joy wrapped in vibrant colors and exciting challenges.
What are the best online games?