Bubble Shooter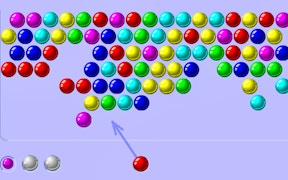 Bubble Shooter
The puzzle genre got a shot in the arm when designers came up with the idea of solving puzzles through breaking things and that's what Bubble Shooter proves. Puzzles don't have to be slow-paced and calm, they can be colorful and vibrant with lots of flash coming from every successful move. This one presents a challenge combining elements from some older games to add more tension to what at first appears to be a fun little puzzle experience. It calls on you to plan every single move so that you not only succeed in making progress but so that you don't make things worse for yourself later.
About Bubble Shooter
This game is reminiscent of the Bubble Bobble series which combined puzzling and platforming with popping bubbles. As the graphics improved, the challenge grew as well and it became even more competitive. This one takes the challenge where it's just you versus the game. The bubbles are meant to look harmless as they remain the thing that is threatening your perfect streak. However, their colors are helpful in clearly identifying patterns and targets to aim for as you continue. To get that satisfaction, you want to work in order to set up multiple perfect shots in a row, like in pool.
How to Play
Bubble Shooter is a 2D puzzle game about popping colorful bubbles that you play using only the mouse. Each level presents an arrangement of colorful bubbles at the top of the screen. You have bubbles that you can fire into the mass of bubbles. If you create a group of bubbles of at least three in the same color, all of them will pop. If a bubble hits a different colored bubble, it will simply stick to it.

The bubble you have available appears at the bottom of the screen and the upcoming bubble is at the very top. To fire the bubble, just click on the screen and it will be launched towards that location. The goal is to pop all the bubbles in the level. The danger is that the bubbles will start descending towards you like Space Invaders after every few bubbles you fire. If they reach the bottom of the screen, it's game over.

Tips and Tricks
You should view the game screen as a pool table since you can bounce your bubbles off the sides and even the ceiling. You'll want to avoid firing bubbles randomly since you don't want to block off large groups. Try to affect the arrangement so that you burst large groups that have multi-colored bubbles hanging from them to eliminate all those bubbles at once.

Game Details
Developer: Absolutist (original version)
Platforms: Web Browser (PC and mobile), iOS, and Android
Languages: English

Gameplay Footage
FAQs
Can you make money playing Bubble Shooter?
Unless you're sponsored by the studio or publisher or are a video game personality, then this game is meant to be played just for fun. However, another game named Bubble Cash supposedly offers cash prizes for playing.

Games similar to Bubble Shooter
With the game as it is and how it plays, you can find it in the Exclusive and Retro Games categories on GamePix. You can also find Bomber Friends, Tower Crush, Super Steve World, and Dotto Botto.
What are the best online games?