Bubble Game 3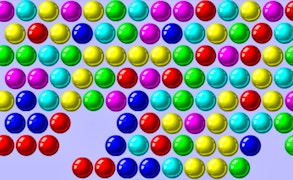 Bubble Game 3
Immerse yourself in the quintessential yuletide joyride with Bubble Game 3, a festive addition to the highly competitive realm of Bubble Shooter Games. This classic ball game spins a vibrant twist on the traditional bubble shooter formula, making it an engrossing entryway into Christmas Games that brings the holiday spirit to your gaming experience.
In Bubble Game 3, you are tasked with strategically firing multicolored bubbles across an ever-changing landscape, aiming to connect a chain of three or more like-colored orbs. The anarchy is palpable as you orchestrate kaleidoscopic explosions, each successful match clearing your path towards victory. The inherent challenge escalates as you navigate through the escalading levels, making this game a compelling fusion of strategy and arcade thrill.
What sets Bubble Game 3 apart in the crowded Bubble Shooter Games genre, is its dazzling Christmas-themed interface. The bubbles have been replaced with ornamental baubles, complete with twinkling lights and holiday trimmings that evoke an atmosphere reminiscent of a warm Christmas Eve. It's a clever integration of theme and gameplay that not only keeps you hooked but also leaves you yearning for a cup of hot cocoa!
The overall mechanics adhere faithfully to what one expects from top-notch ball games - precise control, quick-thinking strategy, and most importantly, an endless source of fun. Whether you're an ardent fan of Bubble Shooter Games or someone seeking solace during the festive season in Christmas Games that test your skills while providing endless enjoyment, Bubble Game 3 opens new doors for enjoyment in not just gaming but also celebrating the spirit of Christmas.
In conclusion, if you're looking for a captivating blend of classic arcade action and festive cheer encapsulated within the likes of bubble shooter and ball games then Bubble Game 3 is your go-to choice! Awash with strategic depth and holiday charm, it's a veritable present waiting to be unwrapped.
What are the best online games?