Bridge Builder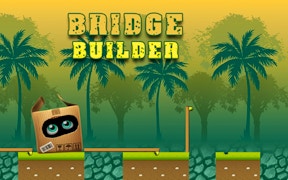 Bridge Builder
Welcome to the riveting and challenging world of Bridge Builder, where your ingenuity and dexterity are put to test in this exhilarating arcade-style building game. Brace yourself for a thrilling journey as you save the adorable Little Boxie from looming dangers by becoming his personal bridge constructor.
Bridge Builder is not just another entry into the genre of building games. It stands out with its blend of strategy, creativity, and real-time action that keeps you on your toes. It's not just about laying down planks; it's a test of quick thinking, accurate planning, and perfect execution.
Intriguing puzzles, exciting challenges, and several levels of increasing difficulty make this a fitting addition to your skill games repertoire. The fate of Little Boxie lies entirely in your hands as you strategize, plan and adapt to unforeseen difficulties with each move.
The colorful graphics add a charming element that complements the competitive gameplay. A truly engaging storyline unfolds as you help Little Boxie traverse dangerous landscapes by constructing sturdy bridges. Your focus and attention to detail would be rewarded as you progress through levels wrapped in varying layers of complexities.
In conclusion, Bridge Builder is an excellent choice for those seeking a blend of creativity, strategy, and intense arcade action. Its refreshing take on building games combined with the buzzing intensity of skill games makes it a must-try for gamers looking for their next adrenaline rush. So turn on your thinking caps band get ready to become Little Boxie's hero!
Remember, in Bridge Builder, every move matters; one wrong step could plunge Little Boxie into danger. So grab your toolkits and brace yourself for a fun-filled ride that only gets more interesting at each turn. Enjoy the thrill that only an intense Arcade game like Bridge Builder can offer.
What are the best online games?