Bridge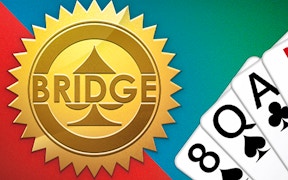 Bridge
In the bustling universe of online card games, a titan humbly stands, an age-old classic that has proved its timeless quality - Bridge. Reigniting the beloved institution of family games night, and cleverly crafting a stimulating environment to test your strategic acumen, Bridge offers an enticing haven for both seasoned aficionados and newcomers to the card game world.
This online version of Bridge is a beautifully realized homage to its traditional roots. Carved with meticulous detail, it artfully merges the nuanced complexity of the original game with the digital ease of the modern age. So whether you long for a nostalgia-soaked trip down memory lane or an opportunity to hone your analytical prowess in new battles, you can immerse yourself in Bridge any time you want.
This practical design is not just for solo play; it also caters to those who crave social interaction in their gaming experience. It bridges generations, making it one of those perfect family games. Additionally, this version of Bridge flexes cognitive muscles hard. With each hand dealt, it demands mental agility and strategic planning. As such, it serves as one of the most potent brain games on the web today.
In conclusion, this online adaptation of Bridge is truly a triumph in the realm of card games. It respects tradition while embracing innovation - offering a robust challenge for your mind and a warming sense of nostalgia for your heart. For those seeking an engaging leisure activity that combines strategy, competition, and social interaction all within a familiar packaging, this online version of Bridge is indeed a bridge not just between players but also between generations.
What are the best online games?
Tags