Brazil vs Argentina Challenge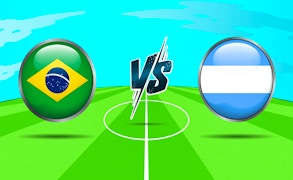 Brazil vs Argentina Challenge
Description
In Brazil vs Argentina Challenge, ignite your competitive spirit in an exhilarating digital football match. The intriguing dynamics of this game are centered around heading the football in order to score goals. Would you be able to outscore your opponent and emerge as the victor? It's a fast-paced, fun-filled gaming experience that perfectly encapsulates the thrill of football.
How to play
The game is primarily focused on heading the football. Players can control their characters using keyboard or touch controls, moving them to hit the ball and direct it towards the opponent's goal. The aim is to score as many goals as possible before the timer runs out. The player with more goals wins the match.
Tips and Tricks
Timing is crucial in this game. Perfectly timing your headers will give you a higher chance of scoring. Keep an eye on your opponent's positioning and make quick decisions to outmaneuver them. Also, be sure to utilize jumping headers for maximum impact and accuracy.
Features
Challenging Gameplay: A thrilling head-to-head battle against AI.
User-friendly Controls: Adaptable for both keyboard or touch-screen devices.
Fascinating Graphics: Enjoy engaging visuals that bring the game of football to life.
Addictive Scoring System: Test your skills in an intense goal-scoring contest.
What are the best online games?
Tags