Brawlhalla Grand Slam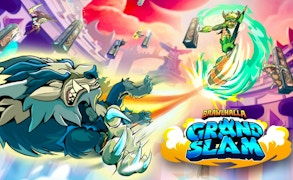 Brawlhalla Grand Slam
Immerse yourself in the captivating world of Brawlhalla Grand Slam, a true champion among sword games and battle games, where every stroke counts and only those with unrivaled combat skills can survive. If you've been on the hunt for knight games or war games that offer an exhilarating blend of strategy, skill, and raw combat power, your search ends here.
This is not merely another title in the crowded genre of fighting games; this is a war cry for all those who pride themselves in their gaming prowess. The game challenges you to rise against seven formidable foes, flaunting your strategic skills and unleashing terror with precise movements and crushing blows.
In Brawlhalla Grand Slam, every platform serves as your battlefield, pushing the limits of vertical combat. Leap from dizzying heights and dominate your enemies from above—an adrenaline-pumped twist to traditional fighting gameplay mechanics. It's here where Brawlhalla stands out as one of the unique Skill Games on the market today.
The game boasts an impressive roster of 42 legends—not mere characters—each bringing their unique capabilities to the fight. Moreover, there are five different weapons at your disposal: each varying in range, power, and effects. It's not simply about collecting them all but mastering each one's potential.
The character design complements its frenetic pace—engagingly detailed yet smoothly animated. Fast movements could either end in devastating attacks or evasive maneuvers, depending on how you tactically choose to engage.
The Brawlhalla Grand Slam isn't just a game—it's a testament to what makes fighting games exhilarating: precision, strategy, and relentless action. So gear up for an unforgettable gaming experience that will keep you on your toes and whet your appetite for more battles!
What are the best online games?