Brain Teaser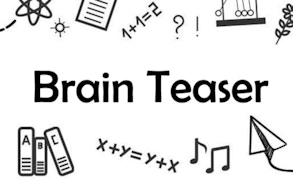 Brain Teaser
Attention all aficionados of trivia games and enthusiasts of brain games, the newest sensation, Brain Teaser, is ready to challenge your mind and keep you captivated. Designed to stretch your cognitive capabilities, this game brings a fresh perspective to the puzzle genre, estimating your reflexes, precision, memory, but most importantly - your creativity.
Don't be fooled by the seemingly ordinary questions; this is not your average trivia game. In Brain Teaser, the conventional route is often a guise for the trap ahead. To excel in this game, you have to abandon the typical way of thinking and approach tasks from a unique angle - only then can you evade being tricked!
The game's main selling point lies in its ability to accurately evaluate players' logical think ability. It breaks away from mundane quizzical journeys and introduces you to a labyrinth full of curious twists and turns. It's a genuine brain teaser, providing not merely entertainment but also an invigorating exercise for your mind.
Crafted with utmost attention to detail, Brain Teaser understands that a real brain game demands an equal mix of reflex testing, accurate calculation, memory sharpening exercises and tests that spark creativity. Packed with such features, this game is truly an all-in-one mental workout hub.
So if you're seeking something more than mere amusement, something that stimulates your intellect while keeping you engrossed – look no further! Dive into Brain Teaser; the pinnacle of puzzle and trivia games. Challenge yourself like never before and experience a new level of mental stimulation.
What are the best online games?
Tags