Boxman Sokoban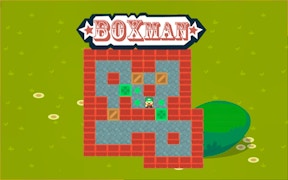 Boxman Sokoban
Welcome to the enigmatic world of Boxman Sokoban, a beguiling synthesis of block games and brain games that will set your neurons firing in all directions. This classic, free puzzle game goes back to the golden age of pixel games and has been intricately designed to provide an addictive gaming experience.
At its core, Boxman Sokoban is a quintessential box-pushing puzzle game; the rules are simple yet seductive. Your mission, should you choose to accept it, is to place all the boxes onto the marked positions. This might sound like a breeze at first, but remember - you can only push one box at a time. The game offers 100 enthralling levels that will continuously challenge your strategic planning and problem-solving skills.
One of the unique selling points of Boxman Sokoban is its captivating simplicity. The game brilliantly marries easy-to-understand gameplay with challenging scenarios that incrementally increase in difficulty. Another noteworthy aspect is its pixel art graphics, which pay homage to the retro era of gaming while providing a visually pleasing interface for modern gamers.
In conclusion, if you're a fan of block games or brain games and thrive on solving riddles wrapped in enigma, then Boxman Sokoban is an unmissable journey for you. Be prepared for hours of fun and challenge, as this addictive game promises an exciting cerebral workout that tickles your nostalgia for classic pixel games.
Start playing Boxman Sokoban today and step into a world where every move counts!
What are the best online games?