Bouncing Frog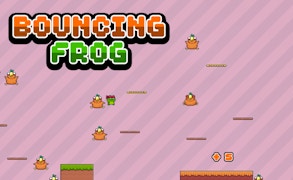 Bouncing Frog
Description
In Bouncing Frog, a HTML5 arcade game, you become a hyperactive amphibian on a challenging mission! You aren't just any frog, you have special powers to bounce high in the sky. While bouncing, your task is to take down mischievous birds that come in your way. This pixel-style game combines elements of skill and strategy, making each level more captivating than the last.
How to Play
To control your frog, simply use the arrow keys or touch controls. Your frog will bounce automatically. Just steer it towards the birds to eliminate them. The higher you bounce, the more points you can score. As you progress through levels, obstacles become harder and bird patterns more complex.
Tips and Tricks
Timing is key in Bouncing Frog. Watch for the bird's patterns and make your move when the time is right! Remember that bouncing against surfaces increases your momentum - use this to your advantage for those tricky high-altitude targets. Survive longer to achieve a higher score.
Features
Pixel-style graphics: Offers retro arcade game charm.
Skill-based gameplay: Test and enhance your timing and precision skills.
Multiples levels: Each with increasing difficulty for continuous challenges.
Simple controls: Easy-to-use arrow keys or touch controls.
What are the best online games?