Bouncing Balls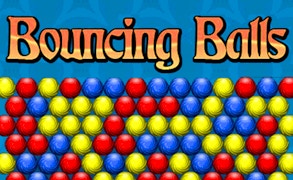 Bouncing Balls
Get ready to be spellbound by the captivating world of Bouncing Balls, a vibrant and exhilarating arcade game that will keep you on your toes. Brace yourself for an addictive gameplay experience that combines quick-thinking, precision, and strategy in a visually stunning setup.
From the moment you launch into the technicolored universe of this classic ball game, it's an immediate plunge into a ceaseless, frenetic challenge of matching 3 or more balls of the same color for destruction. Rows upon rows of vibrant spheres descends from the top, with one lone ball positioned in your launcher at the bottom, ready for action. The next sphere lies in waiting, adding to the anticipation and suspense.
In this thrilling hyper-casual-game, it all boils down to your ability to steer the launcher's direction with swiftness and accuracy. Click to release your ball into the fray and watch as it carves through the multicoloured horde. The key - create a cluster of at least 3 identically hued balls, triggering a chain reaction of annihilation.
The brilliance lies not just in reducing these colorful orbs to oblivion – there's more than meets the eye here! Witness mind-boggling chain reactions as balls solely attached to the obliterated group also get eliminated. For instance, destroying a group of blue orbs will also take down any red ones attached solely to them! Top left corner keeps tab on your escalating score; larger pile destructions means more points!
The stakes are high- if these balls touch down at the bottom, it's game over! So channelize your inner arcade fanatic and provide those nimble fingers a workout, clear out that field and rocket up that leaderboard in Bouncing Balls.
What are the best online games?