Bounce And Pop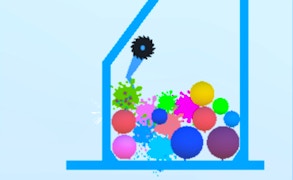 Bounce And Pop
Welcome to a realm where fun meets skill and challenge, welcome to Bounce and Pop! As an arcade game developed with the highest consideration for gamer satisfaction, this unpredictable fusion of ball games, Skill Games, and Hyper Casual Games promises unparalleled amusement and action.
Ready to train your brain while having fun? Bounce and Pop is here to serve you. The objective of this mesmerizing game is deceptively simple: control gears to smash a balloon. However, the exciting twists and turns woven into the gameplay make it anything but trivial, aiming at the goal, launching the gear, and maneuvering it craftily to burst all the balloons.
The mastery of timing needed in Bounce and Pop makes it stand out in the niche of ball games. Unlike most run-of-the-mill ball games where momentum is everything, here survival depends on both keen judgment and swift reflexes.
In the sphere of Skill Games, Bounce and Pop carves a niche for itself given its refreshing take on problem-solving. It's not just about fast fingers or sharp eyes but also about planning your moves carefully, making it a perfect blend of strategy and agility.
The essence of Hyper Casual Games - fast gameplay, simplicity, and high replayability - is preserved intact in Bounce and Pop. With more levels waiting to be unlocked as you progress, each stage presents unique challenges that keep you hooked for hours.
In conclusion, Bounce and Pop is an engaging adventure that effortlessly combines the thrill of ball games with quick-thinking elements of Skill Games within an accessible Hyper Casual gaming framework. Come on gamers everywhere! Let's try it now - let's enter a world that tests your flexibility while rewarding your victories!
What are the best online games?