Bounce And Collect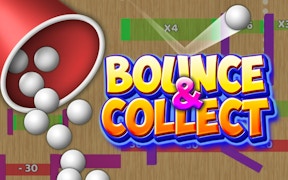 Bounce And Collect
Unleash your inner arcade wizard with the staggering Bounce and Collect, an entrancing foray into the world of ball games that redefines simplicity and engagement in the hyper-casual genre.
From the moment the game loads on your screen, you intuitively understand that you're about to embark on a journey of exponential fun. This skill-based game invites you into its mesmerizing realm, challenging your reaction time and precision as you strive to tactically bounce your ball through a gauntlet of multiplication bonus areas.
Admittedly, Bounce and Collect might come across as innocently simple, but don't let this fool you. Behind its minimalist veneer lies a wellspring of strategy. Deciding when to unleash a flurry of balls that increase their number exponentially is key to ramping up your high score in this quintessential number game. Each decision matters, each moment is packed with nail-biting tension — truly a testament to expertly crafted skill games.
In the bustling landscape of Hyper Casual Games, Bounce and Collect stands tall, offering an addictive gameplay loop that's easy to pick up yet provides in-depth strategy for those daring enough to explore it. It's much like trying to juggle dozens of multicoloured orbs all at once — an intoxicating mix of challenge and fun that'll keep you coming back for more!
If an exciting blend of strategic gameplay, thrilling arcade action, and mesmerizing graphics wrapped in a beautifully designed package sounds like music to your ears, then Bounce and Collect is sure to hit every high note. So why wait? Step into this captivating world and let the bouncing begin!
Bounce And Collect, simply put, delivers exponential fun in every bounce! No wonder it's taking the world of arcade-style ball games by storm!
What are the best online games?