Bonk io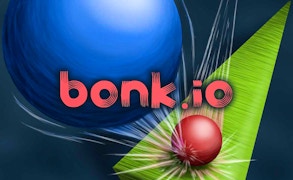 Bonk io
Unleash the Thrill with Bonk.io, a Physics-based Online Game
Bonk.io lets you dive into a world brimming with fun and physics. An enthralling multiplayer .io game, it invites you to compete in adrenaline-pumping matches with up to eight players. The ultimate goal? Employing strategic maneuvers to push your competitors into hazardous objects or off the map edge. Savor the gleeful twist when players inadvertently cause their own downfall, leaving you as the last player standing and, hence, the triumphant winner!
Mastering the Mechanics of Bonk.io
The beauty of Bonk.io lies in its simplicity. Jump into action right away with quick play options using your arrow keys for movement, and the 'X' key to lend your circle avatar some heft - making it tougher to dislodge. Feel the heat as you must consistently outsmart your rivals by either toppling them off the map or instigating enough chaos to make them detonate.
Bonk.io: A Canvas of Customization
In Bonk.io, your character's customization is limited only by your imagination. Unleash your creativity on the circle avatar, and prepare to engage in fierce battles on hundreds of distinctive, player-customized maps. With an active online community since 2016, Bonk.io stands as a testament to its London-based developer, Chaz's genius.
Unraveling Bonk.io's Unique Features
The game continuously stirs up excitement with its addictive, fast-paced multiplayer matches, myriad game modes, and a feature that allows players to create their custom maps. First unleashed on the web browser (HTML5 platform) in September 2016, Bonk.io has held its audience captive ever since.
Simple Yet Strategic Controls
In Bonk.io, controls play a crucial role in determining your fate. Use the arrow keys to navigate your circle and the 'X' key to increase its weight, adding a layer of strategic depth to your gameplay.
What are the best online games?